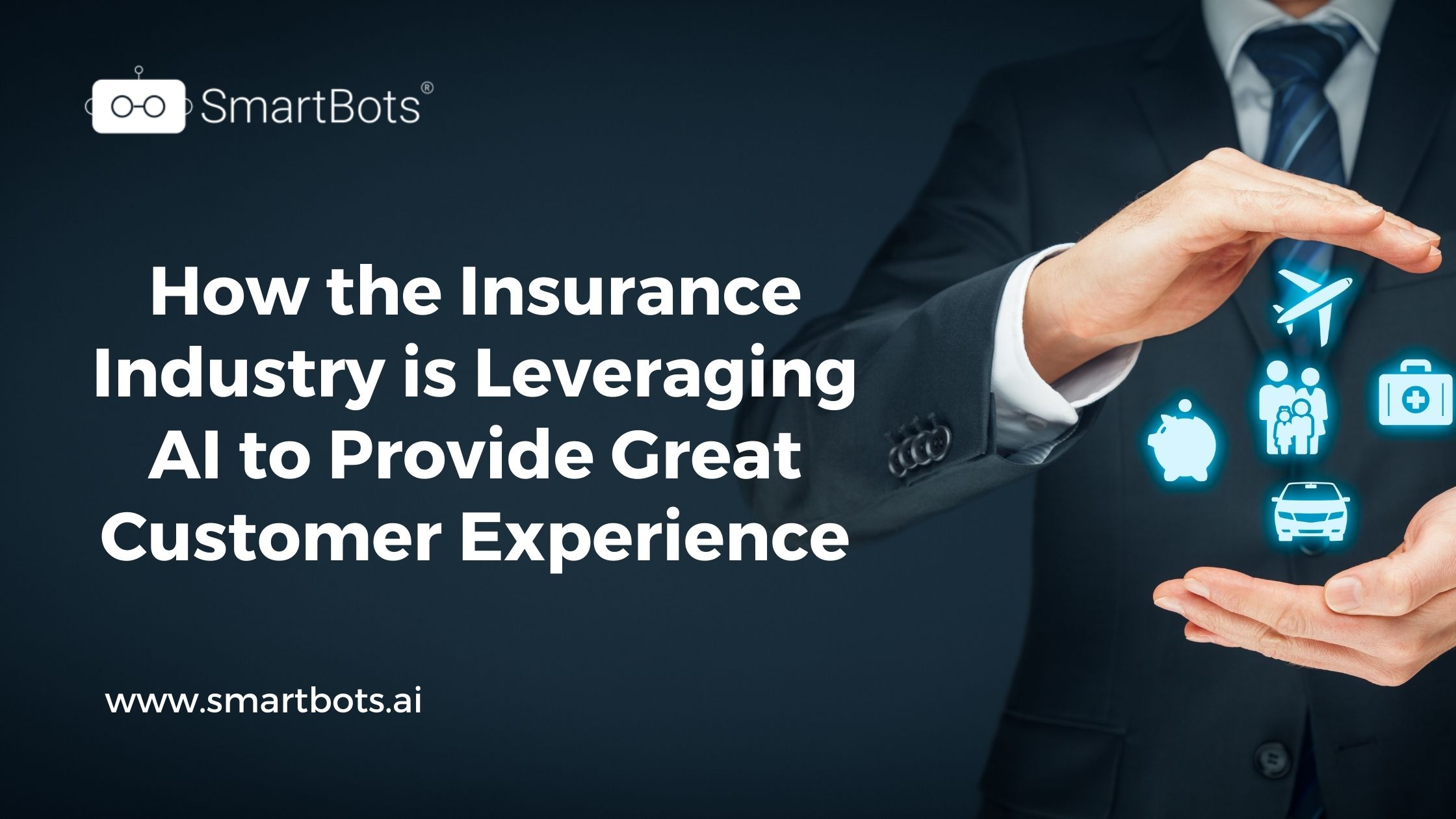 Insurance is one of the most critical industries there is; it is what saves people and organizations from falling into financial trouble after a crisis or an unforeseen event. However, it is often deemed as the least innovative industry with outdated processes, time-taking procedures and delays, legacy IT systems, and many dissatisfied and even disgruntled customers.
With the change in demographics and a rapidly growing population of millennials who are tech-savvy and like to perform their banking and finance-related transactions online, it has also become indispensable for every organization in the banking and finance sector to cater to their needs. Evidence has it that millennials are more likely to purchase insurance online if the time and hassle costs are lower, unlike the middle-aged and older demographic that prefers purchasing insurance after meeting and discussing options with an insurer. So, the insurance industry is slowly and steadily working its way out of this reputation of being technologically outdated and of providing inconsistent and friction-filled customer experiences. How? Through a digital transformation lead by Artificial Intelligence (AI) and Machine Learning (ML). To effectively understand how technology and AI have disrupted and revolutionized the insurance industry, We must first look at how the insurance industry is leveraging AI.
How AI is Used in the Insurance Industry?
Risk Evaluation: The core of the insurance industry is risk, and its effective evaluation/assessment. Using AI and ML, insurers can leverage the data deluge to assess risks with higher accuracy, understand new correlations and patterns, get more in-depth insights, make better predictions, and accordingly, customize their plans and adjust their premiums. For instance – through AI and ML, if the firm finds that a particular group of policyholders are at a higher risk of actually facing a fire accident, then the firm can adjust the premium accordingly.
Underwriting: For re-insurers and underwriters to effectively, and seamlessly perform their tasks, AI efficiently gathers data from different internal and external sources and provides deep and intelligent insights. By taking control of the data deluge and leveraging it, such insurance executives can move from the detect-and-repair mindset to a predict-and-prevent philosophy, reduce guesswork in insurance, make accurate, data-driven decisions and develop a competitive edge for the organization.
24×7 Assistance to Insurance Shoppers: AI in the form of conversational bots are capable of handling much larger volumes of insurance shoppers. They effectively and efficiently handle large volumes of queries, provide automated advisory and personalized recommendations to clients through multi-turn, natural, and goal-oriented conversations. Conversational bots, thereby, enable organizations to automate the query management process to a great extent. So, the human agents can be free from the drudgery and sheer monotony of handling regular inquiries and step in when required to customize, convince, and convert shoppers. Such automated advisory saves the time to give a quotation to the client, enabling them to make quick, data-driven insurance shopping decisions.
Increase Conversions by Human Agents with Chatbots as Live Agent Assistants: It is impossible for human agents to effectively and productively handle large volumes of data on a daily basis and make conversions and upsell products. Chatbots who have ML capabilities can be programmed and taught to act as live sales assistants to agents. The chatbots collect, collate, and analyze voluminous data from various sources, making key insights available to the policy agents while they are making pitches to the potential clients. These conversational bots make relevant information and high-quality insights available to human agents in a timely fashion and recommend the right products based on the client's profile. This way, the human agents not only convert clients but also up sell and cross-sell the right products and increase the lifetime value of the client.
On-Boarding Assistant: It is a long and cumbersome process from preparing and giving quotes to clients, getting them to choose a policy, and prepare the policy papers to make them pay and onboard themselves on the policy. Known as the quote-to-cash (QTC) process, the time and hassle costs to the human agents from this process contribute to their lower sales figures and inability to generate adequate additional revenue. With the help of conversational bots that can be programmed and taught to act as onboarding assistants, it is possible to automate a significant part of the process, reduce the time and effort required and enable human agents to focus on converting new clients. These onboarding assistants can solve any queries that clients have, help them find in-network physicians/ hospitals, understand the plan coverage, etc.
Claims Management: Filing for claims and getting it is often an exhausting and emotional task that is high on time and hassle costs because clients file for claims after a major event like an accident or natural calamity or illness/ death of a family member. Like with personalized assistance to policy shoppers, conversational bots automate to handle voluminous calls in the claims process, which very often involves repetitive questions. Human agents can step in when required and use the full conversation history to handle more complex questions and issues. With chatbots and AI, the claim adjudication time is reduced, and the fraud detection percentage has increased.
High-Quality and Consistent Customer Experiences: Dynamic and meaningful conversations in natural language through conversational bots have enabled insurance organizations to provide high-quality, seamless, and consistent customer experiences by lessening the wait time and frustration levels of the clients. They have enabled clients to engage in self-service, understand insurance jargon better, and uncomplicate the claims process. For instance, the provisions for car insurance customers to file claims through the mobile app by clicking pictures and submitting the claim instantly has helped reduce the time, money, and hassle costs for the clients.
The impact of Conversational AI in Insurance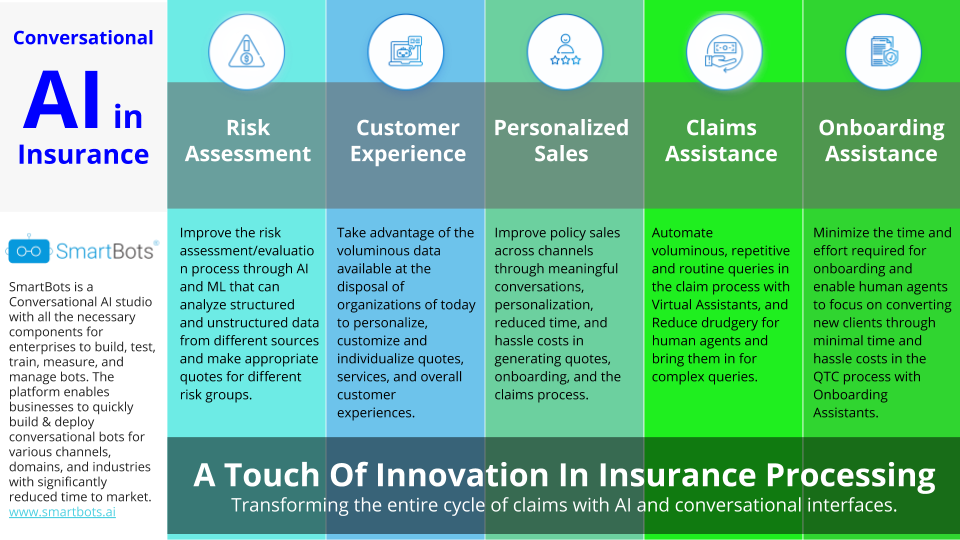 As mentioned earlier, the digital transformation and AI adoption in the insurance industry is slow yet steady. In some respects, such as using Insurance Chatbots for onboarding assistance and personalized sales assistance, many players have already adopted or are adopting AI technology, while in other respects, there is yet to be full-fledged AI adoption. In the coming years, the insurance industry as a whole will benefit from operationalizing AI.
Insurance Claim Agent Chatbot by SmartBots.AI
At SmartBots, we help organizations adopt Conversational AI (chatbots/virtual assistants) to improve employee productivity and provide a great customer experience.