Accelerate sales with conversational AI Solutions
Get actionable sales intelligence and performance assistance with SmartBots to improve sales productivity.
Reduce Churn 24/7 Availability Increase Revenue Improve CSAT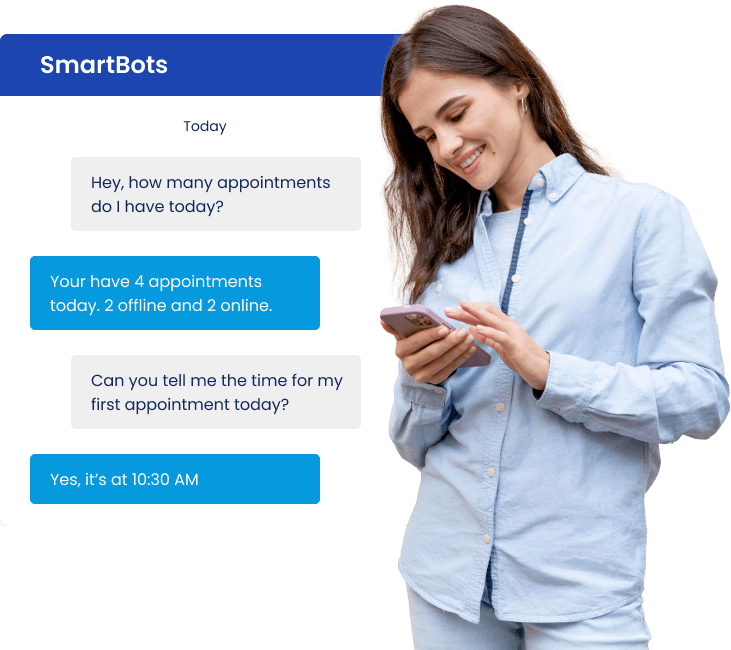 Sales assistance at your fingertips
With SmartBots, improve your sales processes.
An all-in-sales platform

With CRM, channel & back-end integrations.
Real-time Assistant

Schedule appointments & status.
Actionable Sales Guide

Check client meetings & pending tasks.
Yield Productive Results

Get invoice payment status & product FAQs.
Personalized CRM for your sales personal
Handle customizations automatically through CRM integrations. This allows sales to happen at the fingertips of your sales personnel by making a personalized and heart touching pitch- every single time.
Equip your sales personnel with on-demand access to the knowledge base
Save hundreds of hours spent to derive the right data. Have your complete sales journey from leads to client meetings sorted. Your personnel can even check their performance status and the target requirements.
Your all-in-one sales AI assistant
Strengthen your sales team with SmartBots
Enterprise System Integration
Case Study
How SmartBots reduced insight gathering cost by 3X?
With SmartBots chatbot solutions, a global tech company has enabled intelligent responses to help their field force. Our solution automated sales insights through conversational AI. This resulted in a 3x cost reduction in insight gathering, enabling faster decision-making processes for the company.
Scalable. Stable. Secure
SmartBots is an industry-agnostic provider of scalable, stable, and secure conversational AI solutions.
Banking
Qualify leads &gather quality leads with powerful sales insights
Insurance
Automate onboarding & reaching out through smart assistance
Retail
Get insights from customer feedback to scale sales
Telecom
Simplified account management & optimized field sales
Travel
Simplified customer itinerary information for scaled cross-selling
Healthcare
Automate patient outreach with billing
Get started on empowering your field force with actionable information. Talk to our experts on how SmartBots automates and improves enterprise sales.